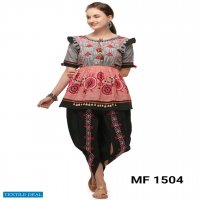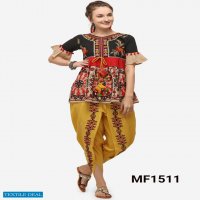 MESMORA KATH-PUTLI FEMALE KEDIA COLLECTION
---
---
---
Call Now For Order:
+91-84601 92326
---
BRAND NAME - MESMORA
KATH-PUTLI FEMALE KEDIA COLLECTION
The most awaited tribal collection
we bring you the traditional art of Gujarat with ancient folk and contemporary motifs transformed in our selfmade silhouettes -
KEDIA AND TULIP PANTS
This navratri lets rock n rolls with a stream of colours, dhinglis peacocks, parrots, elephants and gujarati folks.
Fabric and Description
colorful heavily embroidered kedias and embroidered tulip pants in pure khadi.
The sound of KODIs is going to mesmorize you
The hand made potli latkans are going to make you feel rich and special.
Sizes
M-36" chest and pants accordingly
xl-40" chest and pants accordingly
length of kedia 28" and pants 40" common in both sizes
IMP NOTE
Jewelleries and hand purses are not part of the product
Price – 999/- per pcs + 5% GST
MESMORA
MESMORA Founded in 2015 mesmora is one of the leading fashion design houses and a symbol of sustainable and contemporary clothing. we design, manufacture, distribute and retail, fashion and lifestyle products, since we started industry marked us as a trendsetter . From the coordinated sets collection in khadi to women kedia sets for Navratri , we have mesmorised the desire and love of women from all over the world. Our range of beautiful western stoles are a fashion element to flaunt by many women. Traditional dupattas gather their attention with traditional embroidery and combination of different fabrics in harmony. Used for all occasion wear by numerous clients.