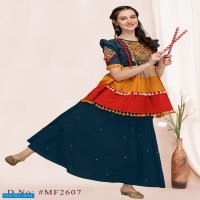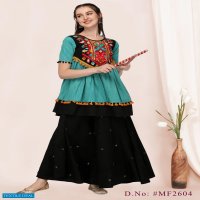 MESMORA NAVRANG FEMALE KEDIA COLLECTION
---
---
---
Call Now For Order:
+91-84601 92326
---
*NAVRANG FEMALE KEDIA COLLECTION IS BACK*
*The most awaited tribal collection of the season*
We bring you the traditional art of Gujarat with modern motifs this time transformed in our selfmade silhouettes
-
*LONG KEDIA TOPS TO PAIR WITH FLAIRY SKIRT, LEGGINGS, JEANS*
This navratri lets rock n rolls with a stream of colours, beautiful motifs, flowers, and gujarati folks.
Colorful heavily embroidered long kedia tops in 100% cotton. Embellished with Colorful tassel laces to make you feel rich and special.
MESMORA
MESMORA Founded in 2015 mesmora is one of the leading fashion design houses and a symbol of sustainable and contemporary clothing. we design, manufacture, distribute and retail, fashion and lifestyle products, since we started industry marked us as a trendsetter . From the coordinated sets collection in khadi to women kedia sets for Navratri , we have mesmorised the desire and love of women from all over the world. Our range of beautiful western stoles are a fashion element to flaunt by many women. Traditional dupattas gather their attention with traditional embroidery and combination of different fabrics in harmony. Used for all occasion wear by numerous clients.