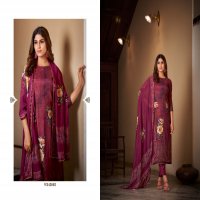 HOOR BY SARGAM FABULOUS DESIGNER PRINT SALWAR KAMEEZ COLLECTION
---
---
---
Call Now For Order:
+91-84601 92326
---
SARGAM 🥇🥇🥇

A PREMIUM COLLETION OF SUITS.

🔵**HOOR**🔵

🥇 Fabrics details🥇
👗*Top:- PURE MUSLIN DIGITAL PRINTS WITH HEAVY HAND WORK.
🇮🇳*Dupatta: - PURE MUSLIN PRINTED (BOX) WITH FOUR SIDE GOLD LACE.
👖*Bottom: - PURE MASLINE DYED
💰*Price:- ₹1495/-Ex
📦Designes:-6Pcs
* DESIGNED BY SARGAM GROUP*…
Sargam Prints
Textiledeal Supplier And Dealer of Sargam Print, Manufacturing Pure Cambric Cotton Dress. Also Made Pashmina Winter Dress Material. Embroidery Dress Material. Jaam Silk Dress Material, Jaam Cotton Dress Material, High Quality Item Like Export Mauritius, Malaysia, Singapore, Australia, England, Germany, Canada, USA.