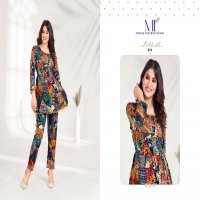 Moksh Co-Ord Set Milky Vol-1 Wholesale Co-Ord Sets
---
---
---
Call Now For Order:
+91-84601 92326
---
*Co-ord Set Milky Vol-
*
Top- *Premium Riyon export quality*
Pent- *Premium Riyon export quality* With 2 *Pocket*
Designs:
Moksh International
Moksh International: Your Go-To Destination for Stylish Women's Clothing on Textiledeal.in! In the dynamic world of fashion, staying ahead of the trends while maintaining your personal style can be quite the challenge. But fear not, because Moksh International, a renowned brand in the realm of women's clothing, is here to redefine your wardrobe with their exquisite collection of short tops, big-size kurtis, co-ord sets, and fancy wear. And the best part? You can find all of these stunning pieces on Textiledeal.in! Unveiling Moksh International: Where Fashion Meets Comfort Moksh International is a brand that embodies the perfect fusion of fashion-forward designs and unparalleled comfort. With a commitment to crafting clothing that not only looks good but also feels fantastic to wear, Moksh International has won the hearts of fashion enthusiasts all over. From casual outings to special occasions, their diverse range of clothing has something for every woman. 1. Short Tops: Redefining Casual Chic Short tops are a must-have in any fashion-savvy woman's closet. These versatile pieces effortlessly blend style and comfort, making them suitable for various occasions. Moksh International's collection of short tops is a testimony to their dedication to cutting-edge designs. Whether you're pairing them with jeans for a relaxed look or layering them under jackets for a more sophisticated ensemble, these tops are bound to become your new favorites. 2. Big Size Kurtis: Celebrating Every Body Fashion should know no bounds, and Moksh International embodies this belief perfectly with their stunning collection of big-size kurtis. Embracing and celebrating diverse body types, these kurtis are designed to flatter and make every woman feel confident. With a range of colors, patterns, and embellishments, these kurtis cater to various style preferences, ensuring that fashion is inclusive for all. 3. Co-ord Sets: Effortless Style, Maximum Impact Co-ord sets have taken the fashion world by storm, and Moksh International brings their unique twist to this trend. From matching crop top and skirt combos to elegant top and trouser sets, these coordinated outfits take the guesswork out of putting together a chic look. Whether you're heading to a party or a brunch date, these sets ensure you're turning heads wherever you go. 4. Fancy Wear for Ladies: Making Every Moment Special Special occasions call for special outfits, and Moksh International's range of fancy wear for ladies is here to make those moments even more memorable. With intricate detailing, luxurious fabrics, and exquisite craftsmanship, these outfits are designed to make you feel like the belle of the ball. From elegant gowns to graceful sarees, you're sure to find the perfect outfit for weddings, parties, and more. Shop Moksh International on Textiledeal.in The partnership between Moksh International and Textiledeal.in brings you the convenience of exploring and shopping for these fashion-forward pieces from the comfort of your home. With just a few clicks, you can add these stunning garments to your collection and stay ahead in the fashion game. In conclusion, Moksh International's collection of short tops, big-size kurtis, co-ord sets, and fancy wear for ladies is a testament to their commitment to style, comfort, and inclusivity. With their innovative designs and attention to detail, Moksh International is set to become your go-to brand for all things fashionable. So, why wait? Head over to Textiledeal.in and embark on a journey of revamping your wardrobe with Moksh International's stunning creations!